Walton County is widely known for its natural scenic beauty and fantastic sand beaches. There are countless exciting adventurers one can do in this county.
While you can visit the county any time of the year, the most pleasant months are October, April, and November.
Whether you are longing for a remarkable culinary experience, great entertainment, art, culture, or an outdoor adventure, the fun never ends in this beautiful county.
In addition to the resources below, don't miss out on learning even more things to do in 30A! Click here to learn more now!
Here are the top 10 things to do in Walton County:
1. Crab Island
You can visit Crab Island to have fun in the waters with boats, paddleboards, or jet skis.
There are delicious foods, local music, and beverages to enjoy here. You can rent a boat or jet skis and spend the day on the waters.
If you don't want to drive the boat yourself, you can hire a captain. They are readily available and offer affordable services.
This destination is open year-round since it's not a state park or a business.
2. Seacrest Wolf Preserve
Here, you will find friendly animal enthusiasts who work to rehabilitate wolves.
Seacrest Wolf Preserve offers you a private tour Monday through Friday, allowing you to have a significant level of interaction with the wolves. They offer a public tour on Saturday.
If you have ever wanted a deep and personal experience with wildlife, this is the place for you. Getting to interact, pet, and take photos with friendly wolves will make an unforgettable experience.
3. Dive to the Underwater Museum of Art
The Underwater Museum of Art is found in Grayton Beach. The fun starts with diving underwater!
This destination offers an exquisite environment for marine life and divers. If you have been dreaming of diving in deeper waters, this is the perfect place for you.
Grayton beach is a very welcoming place where you can visit with your friend or loved one.
It features narrow streets speckled with the shade of live oaks and wooden beach bungalows. If you don't like diving, there are other things to enjoy in Grayton beach.
During warmer months, you may enjoy playing volleyball or maybe participate as a spectator as there is much to see.
Grayton beach also offers some of the best seafood and drinks, with a variety of affordability for everyone.
4. Catch Some Jazz at the Red Bar
When you visit Grayton beach, don't miss out on the opportunity to enjoy great music and good times in the iconic Red Bar.
This bar is one of the funkiest places you will visit in Walton County. It's just a few steps from the white-sand beaches.
You will enjoy great food like crab cakes, burgers, fish sandwiches, and drinks such as cocktails and other beverages in this windowless hang out.
The most unique thing about this place is the Red Bar Jazz Band that plays Tuesday through Saturday nights.
You may want to stay a little later when you visit to watch some musical celebrities live as they tend to show up after the sun goes down.
5. Visit Santa Rosa Beach
Santa Rosa Beach has countless things to do for fun and to create a remarkable experience.
You will enjoy the feel of the soft white sand on your feet and the view of the beautiful sunrises and sunsets.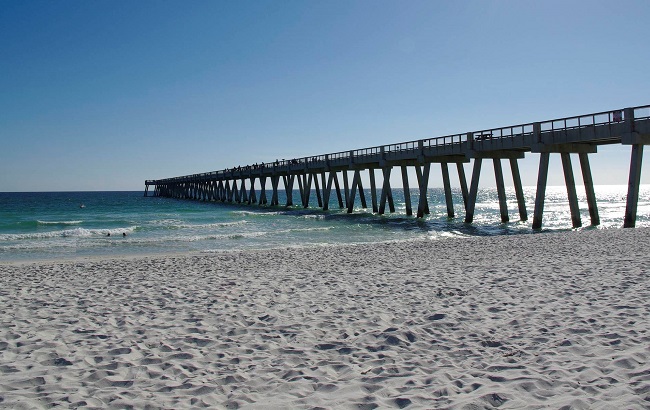 It's not crowded, so you will have ample space to enjoy on the beach.
You can go fishing at Santa Rosa Beach or enjoy a great family day. If those aren't what you're after, you can also enjoy Santa Rosa Beach by going antique shopping or eating in one of the many fabulous eateries.
6. Rent a Bike and Explore South Walton
South Walton has over 200 miles of biking trails and designated bike lanes on the explicit highways like the Scenic Highway 98.
You can rent a bike from vendors or come with your own to enjoy biking on these trails.
Once you have a bike, it recommended to bike along the Scenic Gulf Drive's paved trail to enjoy great views and cool ocean breezes.
Another favorable trail is the Timpoochee Trail, running parallel to Scenic Highway 30A. You can ride on this trail while viewing recreational areas, the state forest, coastal dune lakes, and state parks.
7. Culinary Experiences in South Walton
After a long day of adventure, you can visit the one of the best restaurants in South Walton to enjoy the perfect meal.
Whether you want coastal casual, rustic Italian comfort foods, or eclectic Asian cuisine, South Walton has world-class restaurants for just about any palate.
If you'd like to enjoy seafood, steaks or veggies for dinner, a few great options include Great Southern Café, Elmo's Grill, or Hartell's Village Diner.
8. Visit Art and Cultural Places
While you could spend your entire trip lounging in the generous sunshine, there is a vast array of local art galleries and live music venues in Walton County.
You will find dozens of art galleries in most beach towns of Walton County, where you can also watch talented musicians and dancers performing live.
9. Hike in a State Park
Some parts of Walton County, like South Walton, are unoccupied and well-preserved as public land. For instance, in the south of Walton County, there are four state parks and a state forest.
You can choose to hike in any of the state parks or forest with to enjoy breathtaking beauty.
You can also hike in the Rocky Bayou State Park in the north of Walton County. While hiking in this park, you will likely see wildlife and can view the concrete bombs on display.
10. Saltwater Charters
Saltwater Charters is a leading fishing company. It offers the best fishing boats and experienced captains. You can rent a fishing boat and enjoy fishing in the salty waters with your family or friends.
They offer fishing tours in Miramar Beach various times a day. For example, a six-hour family fishing tour on a private boat, catching big fish is a great way to spend time on the water.
There is so much more to experience and do in Walton County, with these popular suggestions to get you started! You're sure to not be disappointed!
Have Questions?
Give Celia, Ann, Laura or Terri a call today to discuss your Real Estate needs.
Summary
Article Name
Things to Do in Walton County, FL
Description
Walton County is widely known for its natural scenic beauty and fantastic sand beaches. There are countless exciting adventurers one can do in this county.
Author
Publisher Name
soldsistersofemeraldcoast.com